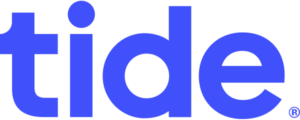 When considering which banking provider to use for your Limited Company, think does this bank understand the wants and needs of my business? Our team at Integro Accounting recommend only the best third party partners in the market, who understand the wants and needs specifically for contractors.
So, why choose Tide for your business banking?
Tide were founded in 2015 and offer a business banking alternative to high street banks. Their unique approach at understanding the contractor market means clients can be set up within minutes.
What are the benefits of using Tide?
The following benefits are exclusive to Integro clients:
1 year free banking transfers
No minimum deposit required to open the account
Free business account open in 5 minutes – a prioritised on boarding service is put in place for Integro clients.
UK sort code and account number provided instantly – avoiding using any of your personal bank details.
Free contactless Mastercard
24/7 access to mobile and web banking
No monthly or annual fees for the account
Free card usage at home and abroad
How do you sign up with Tide?
Simply click on the following link to get started: Sign up with Tide
You will receive an SMS text within minutes. Simply click on the link provided in the text and download the Tide app. The app will guide you through the entire process.
Any questions please do not hesitate to speak to one of our qualified accountants on 0207 0962659 who can guide you through the stages.