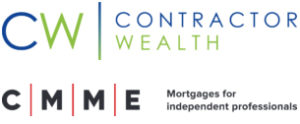 If you are in need of financial advice, our team at Integro Accounting recommended Contractor Wealth, sister company to CMME. Contractor Wealth come with a wealth of knowledge and understand the requirements of a limited company contractor.
They offer advice on pension planning, tax advice and investment planning – setting you up for your future, today.
So, why speak to Contractor Wealth?
Contractor Wealth have been providing advice to contractors and freelancers for over 20 years. Their FREE no obligation consultation means you can get the advice and support you need without paying any upfront costs or commitments.
What are the benefits of speaking to Contractor Wealth?
Contractor Wealth specialism is the contractor market – offering tailored advice to suit the wants and needs of contractors.
Tax saving advice – they understand how to structure your pensions and investments to provide the perfect balance between flexibility and profit.
Dedicated financial adviser who will work with you every step of the way – meaning you don't have to repeat the same information over and over again, they will have a complete view of your current situation.
Speak to a member of Contractor Wealth
Simply click on the following link to book your telephone consultation – an expert from the Contractor Wealth team will be in touch within two hours: Speak to a Contractor Wealth consultant.
Alternatively contact one of the Integro today and we can request a call back on your behalf – simply call 0207 0962659.
Wealth:
The value of investments may fall as well as rise and past performance is not a guide to future returns.
Financial advice is given by Contractor Wealth Management Limited which is an appointed representative of Intrinsic Mortgage Planning Limited and of Intrinsic Financial Planning Limited who are authorised and regulated by the Financial Conduct Authority. Intrinsic Financial Planning Limited and Intrinsic Mortgage Planning Limited are entered on the FCA Register (http://www.fca.org.uk/register) under reference 440703 and 440718.
Why choose Integro Accounting?
Integro Accounting provide a fixed fee limited company accountancy service to contractors, freelancers and consultants. Integro accounting was founded on the word integrity. Clients rate us 5/5 on Google and we pride ourselves on building a completely transparent and personal relationship with our clients.  For just £100 + VAT per month, you can have a partner integral to your contracting career.
All-inclusive price – no hidden charges, one comprehensive package.
A dedicated accountant – one person who will support you every step of the way.
Unlimited face to face meetings – offices available across the UK.
FREE award-winning accountancy software – a FreeAgent license provided to all clients.
24/7 access to your accounts – complete visibility of your accounts whenever and wherever you are.
Speak to one of our expert accountants today on 0207 0962659 or email christian@integroaccounting.com for more information on how we can help you.